The Cosmic Creation Calls infuse the wisdom of the stars with science, technology and spirituality to help you learn, grow, transform and create a life that you desire. The calls are designed to help you deepen your cosmic and spiritual connections, align with your life's vision and higher purpose and design your life from a higher level of awareness from your heart-space with peace, love, joy, abundance and collaboration.
2017 is a powerful year to focus on your long-term success and your cosmic vision and purpose. Not only will the primary Fire element play a role to rapidly transform the world around and within us, the cosmic alignments will also help to transform major structures so they can be rebuilt to support the next level of human consciousness.
Your final frontier is your inner universe. Self-realization and self-mastery are your keys to rise above limitations and redesign your reality. When you create harmony within and embody love, healing, and abundance, your external universe reflects that and life becomes magical.
When you combine the knowledge from science, technology and spirituality, you understand that the atoms in your body were created at the heart of different stars. As the stars become supernovas and ascend, the physical energy burst comes together to form galaxies, solar systems, planets and rocks, which form the building blocks of all living beings.
Each month, you will explore Cosmic Creation with a particular star, nebula, cosmic gas cloud or planet based on the cosmic alignments and the energy and information that is beneficial for you.
Cosmic Magic for May – Chiron, the Healer of Spiritual Wounds

Chiron is a minor planet in the outer Solar System, orbiting the Sun between Saturn and Uranus. Chiron is also sometimes classified as a comet.
Chiron is named after the centaur Chiron in Greek mythology who was a healer and a teacher. A centaur is a mythological creature with the upper body of a human and the lower body of a horse.
The crystalline energy of Chiron is known to help heal deep spiritual wounds.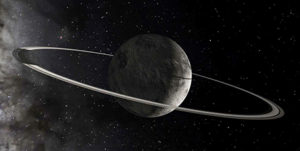 Often, because of life events or environment, you may feel inner guilt, insecurity and a need to constantly prove yourself and your worth. There is often insecurity and shyness during childhood and adult years around performance, expression, being seen by others and allowing your inner light and creativity to shine.
When that happens, you shut down parts of you and there is a constant worry about what others would think about you.
A strong presence of the crystalline energies of Chiron helps to overcome those patterns and energies, heal them, strengthen your inner light to shine and hold a stronger spiritual vibration.
Let's explore consciousness evolution by taking a journey into your personal spiritual healing with the help of Chiron.
We will explore the crystalline energies of Chiron to:
Integrate Chiron's crystalline energy to strengthen your personal crystalline body
Let go of your inner worthiness and judgment patterns around separating from a Unity consciousness
Heal persecution for your Soul journey in the name of Divine order, religions and spirituality
Learn to heal your communication, expression and relationship fears
Prepare your body and your energy field to hold and process a stronger vibration of light and energy matrix
The Cosmic Creation Calls are designed to help you:
Explore and expand your consciousness
Achieve a higher level of brain function
Increase your intuition
Receive guidance from the universe more easily
Rise above day-to-day challenges
Attract solutions and new ways of doing things
Work with the energy of different stars for healing
Transform core blocks
Manifest your desires
Use the knowledge and information you receive to design a life of your choice
Learn to harness the power of the stars to design an enhanced life and manifest faster!
Calls are held once a month. They are a great way for you to learn, grow, play, create and manifest!
Date and Time:
The first Sunday of every month at 8:00 am Pacific / 11 am Eastern.  Calls are generally an hour.
May Registration is Now Open
Benefits
Join us the First Sunday of each month to explore spirituality, consciousness, purpose, creation and manifestation with a cosmic being
Private Facebook group access – be supported by Mashhur and the community
Guided journeys, meditations and integrations to help you raise your vibration
Work toward accomplishing your vision or create one if you do not have a yearly vision
Stay in a constant flow of higher vibration and be empowered to take action
Format:
The Cosmic Creation Calls are conducted as a live call once a month and include teaching, guidance, participant Q&A, journeys and more.  Bring your curiosity, questions, awareness, observations and playful spirit to these transformational stellar calls.
Date and Time of the Next Cosmic Creation Call:
Please note that the call is being held on the second Sunday in January as the first Sunday is New Year's day. Sunday, May 7th at 8:00 am Pacific / 11 am Eastern.  Calls are generally an hour.
Download and Replay:
Replay and download options are available for each call.
May Registration for $48
Orders placed on or after the 27th of each month will be for the following month's access.