Activate & Awaken the 12 Chakras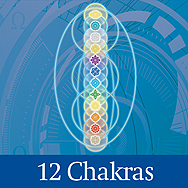 This is a guided activation process to help you awaken, activate and live from your 12-chakra system instead of just your 7-chakra system. As the vibration of the planet is increasing, it is essential for you to grow internally and rise above old beliefs. Working with the additional 5 major spiritual Chakras will help you to expand your consciousness, awaken your hidden potentials, align with your higher vision and purpose and attract more abundance. The audio recording contains 2 parts. Part 1 is for the first seven commonly known chakras. Part 2 is for the second set of 5 major chakras that are important for your consciousness expansion.
12 major chakras are cleansed and purified
They are activated with the12 Rays of the Sun
You will anchor a new matrix of information for each of the 12 major chakras for your next steps, alignment with your vision, opening up to higher vibration and possibilities, awaken your intuition and attracting new solutions
Begin to open up your memories of other timelines
Create stronger alignment with your purpose and the universal flow of energy
Begin to work with cosmic energy for the highest good of all
Speed up your ability to manifest
These recordings are encoded with layers of information so that each time you listen, you can go deeper and transform more
You will receive two integration audio recordings, a nighttime processing audio recording and a PDF document with a detailed description and guided processes to awaken and activate your 12 chakras.