The Rings of Union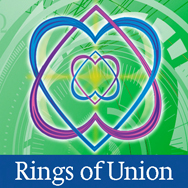 The Rings of Union is a holographic tool that can be used to release issues and blocks and transform patterns to attract unconditional love and union for this lifetime. The Rings of Union is also great for twin flame reunion. Below is a brief description:
When the Rings of Union are activated, the integrated Holographic Vision Board is also launched and it receives your romantic goals and visions for using the Rings of Union.
The program works with your consciousness to analyze the current patterns and the relationship between you and your desires to generate options that are in harmony with you
You begin to gradually detach from non-beneficial morphic fields or group consciousness that are often harmful for your relationship
The Rings of Union create a complete profiling of you across all timelines including any sacred contracts for your soul's journey. The rings then project a holographic matrix of your ideal relationship and a vibration of symbols and sacred geometry on your energy field and help you to release blocks with unconditional love. They help to transform anything that prevents true love and union for this lifetime.
You will receive an audio recording and a PDF document with a detailed description, guided process and how to use the Rings of Union.