Reignite Your Divine Spark
Your consciousness has explored many galaxies and timelines during its existence. From this journey there remains unresolved patterns, trauma, wartime memories, diminishing self and self-judgment because of shame, guilt and betrayal that shook your foundation of faith. Connections to limiting beliefs and experiences of deep fear are within the majority of humanity.
You can see the proof of this in your day-to-day life, in books, movies and in stories that were passed down for thousands of years! The disharmony from these experiences can keep you from achieving your goals and living the life you desire.
Join us for Soul Journey Healing – Cosmic and experience a new evolutionary process to heal your core wounds and reignite your divine spark.
During the intensive, 2-part inner transformation and soul journey healing process you will begin to harmonize both your past and your path forward, allowing a stronger cosmic alignment.
The Soul Journey Healing – Cosmic process will also help you prepare for major physical, emotional, mental and spiritual shifts that are happening globally. As you anchor the higher vibrational energies of Cosmic Consciousness, you will facilitate the transition of yourself, humanity and earth to a stronger 5th dimensional energy.
By harmonizing your soul's journey, you can embody stronger matrices from the stars, expand your inner awareness, change your perception of reality and awaken more of your core stellar messages that are a part of you. You can step more into global service if that is your vision.
What's Special About This Soul Journey Healing? Sirius, Antares and Pleiades!
The Power Star Sirius

Sirius is the brightest star in Earth's night sky. This binary star system has been an integral part of many ancient civilizations including the Egyptians. One of the shafts of the Great Pyramid of Giza points toward Sirius.
Many divisions, disagreements and disharmonies have taken place during our conscious journey through Sirius and its surrounding systems.
As the old matrix of power, control, greed and domination breaks down on Earth, you are in a stronger position to look deeper into your soul's timeline around the star system Sirius.
This has been one of my strongest reasons for waiting to help you explore Sirius at a deeper level. Engaging with your soul's timeline around Sirius can help you connect with a stronger flow of cosmic light vibration. Many of you have inquired about Sirius and how to harmonize that timeline and anchor a stronger matrix of global collaboration.
Now you can explore this powerful timeline of your soul's journey and dissolve old ties that no longer serve you on your path of harmony.
Royal Star Antares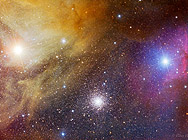 In addition to Sirius, you will also explore your soul's journey through the constellation Scorpius where Antares A and B play an important role in your consciousness evolution.  Antares helps you to reach into the deep core parts of your feelings, emotions and events that may have caused severe disharmony. 
By working with the energy matrix of Antares B, you can transform and dissolve those old events so that you receive the healing that you need.  Antares A helps you to explore your timeline and rewrite events.  As you explore the Soul Journey Healing program and unwrap timeline disharmony of your soul's journey, resolve old events and shift and raise your inner vibration, you can attract a stronger flow of love, joy, harmony, abundance and prosperity in all areas of your life.
Pleiades Open Cluster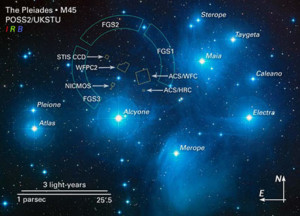 The Stars in the Pleiades Open Cluster in the constellation of Taurus create the symbol of a question mark "?" in the night sky.  As we look up and see the stars creating a "?", our inner voice connects with curiosity and possibilities. 
As you experience Soul Journey Healing, you will go through harmonizing your soul's journey through the major stars in the Pleiades Open Cluster, also known as the 7 sisters.  These are Sterope, Merope, Electra, Maia, Taygeta, Celaeno, and Alcyone.  This system and the stars have played a big role for different civilizations by helping humanity to explore stories, teachings, guidance and to be curious about our origin.
During Soul Journey Healing, as you explore the 7 sisters, you will focus on harmonizing your timeline and journey through this system, dissolve patterns that hold you back and experience Pleiadian healing to attract creativity, spiritual Eco-friendly technology and anchor solutions to enhance global systems (education, medical, governments, etc.).
Healing Humanity
As you heal your journey through these major systems, you will also help to heal a big part of humanity's journey.  Many of these star systems hold information for our consciousness expansion, new technology solutions, creating more collaboration, bringing in new structures and foundations to change global systems such as politics, the economy, education, health and more.
Without resistance, manifestation is easier.  By creating major and deep core inner shifts, you can allow a stronger flow of cosmic alignment for your life and your ultimate vision.  You can operate more from your heart holding the vibration of love, peace and prosperity.  As you interact with others in your daily life, their consciousness will also receive what they are ready to receive.  This process will also help create more global harmony by changing perceptions and resolving disputes that we have all been carrying through these star systems. Now is the time to heal and transform them.
Experience the Soul Journey Preview Call

During the call you will experience a part of your soul journey healing. Mashhur takes you to a timeline before your soul-consciousness enters Canis Major and the Sirius star system.  Experience a deep healing of old wounds, traumas, repeating patterns, resistance and other experiences just prior to coming to the Canis Major and Sirius star systems.  If you listen to the recording, you will receive the same benefits.
Listen to the Preview Call and Experience a Segment of Soul Journey Healing:
During the Soul Journey Healing – Cosmic process you will:
Experience a deep healing of your Soul Journey and consciousness evolution through your Sirius and Scorpius timelines
Transform, diffuse and dissolve ancient limiting ties from those timelines of your journey
"Unwrap" timeline disharmony or karmic ties from those timelines
Experience Soul Journey Healing for Sirius
Experience Soul Journey Healing for Scorpius
Transform memories of fear, trauma and divisions from those timelines
Shift blocked patterns from your soul's journey that hold you back from aligning with your higher vision and purpose
Deep cleanse your cellular memories of those timelines to invite inner peace and bliss
Integrate solutions from the Akashic Records for your new path
Experience generational healing for your family lineage for Sirius and Scorpius timelines
Integrate new solutions for your journey and focus on living a passionate and joyful life
Enhance Your Chakras and Energy Centers
As you go through the process, you will also experience reprogramming of many Chakra imprints that are no longer beneficial for your journey and consciousness evolution. You will integrate a stronger vibration of the 5th dimensional energy matrix to operate from a higher level of consciousness.
What is Included in the Program? 
Soul Journey Healing – Cosmic is a 2 part program that you experience over a period of 8 days.
Part 1 Audio Track Includes:
Full Track including Q & A
3 Separated Processing Tracks for different levels of healing and harmonization for your soul's journey to Canis Major and Sirius star systems
Part 2 Audio Track Includes:
Full Track
2 Separated Processing Tracks for different levels of healing and harmonization for your soul's journey for Scorpius and Pleiades star systems
Be a Part of Creating a New Experience of Humanity
For thousands of years, Earth and humanity has experienced a structure and system primarily based on power, control and domination. As those energies begin to diffuse and dissolve, you will bring in new solutions, harmony and collaboration for your path, humanity and Earth.
What are you called to do in your heart?
What would make your journey through Earth worthwhile?
What steps are you willing to take to align with you higher calling?
I invite you to experience an evolution of your mind and consciousness, explore possibilities and design a new Earth with a collective focus toward harmony, love and collaboration.
Are you ready?
Are you ready to explore self-mastery and self-discovery?
You can register for the Spiritual Alchemy – Evolution and the Soul Journey Healing – Cosmic Combo package.
Spiritual Alchemy is an experiential learning event where you will discover how to harness the power of the stars to align, create, transform and manifest.
Your final frontier is your inner universe and the exploration of your own consciousness. Self-realization and self-mastery are our keys to rise above limitations and design your own reality.
Experience exponential growth and a higher level of spiritual awakening.
Learn more about the Spiritual Alchemy – Evolution program here.
Register for the Combo price: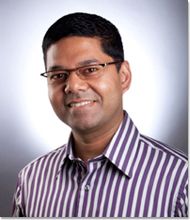 Mashhur Anam is an internationally known alchemist, speaker and the founder of Life Harmonized. He creates easy to use science-based transformational tools to help people access their personal power to manifest their desires and design their ideal lives.
Mashhur is guided by a belief and deep knowing that anything is possible. Over the years, curiosity, exploration and a desire to help humanity raise its collective consciousness has guided him to explore the holographic nature of our universe and uncover a multitude of algorithms and equations that create and design our reality as we know it.
He brings these tools to people and companies from all over the world in a way that is understandable and easy-to-apply. He uses his advanced understanding of holographic technology to help you become the Architect of your own desired reality.
Although these tools and programs are complex in nature, Mashhur's programs allow anyone from any background to incorporate them into their daily lives.
He founded Life Harmonized so that all people could access these powerful technologies to raise the consciousness and vibration of the world. He and his team of fellow manifestors, dreamers and reality-benders love to serve their clients in achieving their desires.